The Promethean Foundation
| | |
| --- | --- |
| OUR VISION... | is to see every child have the opportunity to reach learning potential from birth |
| | |
| --- | --- |
| | "...teaching educational excellence and character development..." |
INTRODUCTION TO PROMETHEAN
Prometheus, a character from mythology, gave fire to man enhancing mans intellectual awareness. It was the name chosen for this foundation because it describes the intent to bring intellectual awareness to very young children of Obion County. The Promethean Foundation was created in 2004 as a result of the generosity of the Robert E. and Jenny D. Kirkland Foundation. This non-profit foundation is under the direction of The Union City Rotary Club, who is charged with the responsibility of creating a Promethean Board of Directors to govern the mission of the foundation.
Mission Statement
It is the mission of the foundation to help "at risk" pre-school children needing an opportunity to reach their learning potential, to attend high quality childcare centers in Obion County teaching with the common theme of educational excellence in academic and character development.
Objectives
To provide childcare centers scholarships for qualified "at risk" pre-school children
To increase the quality of education and care at all participating childcare centers in Obion County
To insure an environment in the childcare centers that teaches using a wide variety of developmentally appropriate curriculum activities for academic and character development
To insure an environment in the childcare centers that models caring, honesty, integrity, respect, responsibility, and self-discipline.
To continually measure and evaluate the progress of scholarship recipients and participating childcare centers
Academic Curriculum
The Pro-Kids Academic Curriculum was designed and developed within a framework of seven disciplines. They represent curriculum areas for age six weeks until entering kindergarten. The curriculum represented the standards for what is developmentally appropriate for children to accomplish during their preschool years in order to prepare for kindergarten. The curriculum established benchmarks for achieving preschool goals. Progress notes helped assess and document each child's developmental progress per discipline. The academic curriculum encompassed:
Speech, Language, and Foreign Language
Early Literacy
Math, Science, and Technology
Social Studies
Creative Arts
Social and Emotional Development
Physical and Health Education
Character Curriculum
Pro-Kids developed a curriculum teaching six character virtues. These represented character values that allowed the child to successfully relate to self, others, and the environment. The curriculum established benchmarks for determining evidence of the child successfully understanding acceptable responses to self, others, and the environment.
Character Virtues
Caring - Objectives:
Children care for and understand self
Children care for others, empathy, and kindness
Children care for the environment
Honesty - Objectives:
Children are trustworthy and truthful
Children are honest, understanding reality versus pretend
Children use honesty in speech and actions
Integrity - Objectives:
Children learn the importance of being dependable, reliable, and consistent
Children make wise personal decisions
Children do what they say they will do, following through on decisions
Children show courage in the face of a challenge, new experience, or peer pressure
Respect - Objectives:
Children use appropriate language
Children are good listeners
Children use good manners
Children honor the feelings of others and forgive
Children treat others fairly, respect rules, and cooperate
Children learn rules and how to be good citizens
Responsibility - Objectives:
Children set goals and accomplish them in a timely manner
Children are conscientious and do their best in their activities
Children are accountable for choices, accepting consequences
Self-Discipline - Objectives:
Children use problem solving methods
Children practice self-control with a positive attitude
Children practice anger management and peacekeeping
Community Partners
The Promethean Foundation works with other organizations and individuals to serve the needs of children.

Childcare Centers:
Children's Corner
First Friends
Kare Bear
Little Lambs I and II
Pumpkin Patch I and II
Small World
School Systems:
Union City School System
Obion County School System
Resources
TEIS (Tennessee Early Intervention Service)
Healthy Start
Child Care Resource & Referral
TN Commission on Children and Youth
Obion County Public Library
Advisors
Community Leaders
Friends
Churches
Clubs
Agencies
Businesses
University and College Faculty

How Are Scholarship Student's Chosen?
Applicants come to Promethean Foundation most often by recommendation from one of the Community Consultants, although, some apply after hearing about the program from friends and family. Applications are only available when scholarships are available. When the funding for scholarships is at the maximum, we close the application process until sufficient funding is available again. When funding is available, the parent completes the application with information about the child, parents, home and family situation, income, and health. After completing the application, the parent arranges for a home visit with the foundation administrator. It has several purposes including verification of residence, observation of environment, and confidential discussion with a parent or guardian concerning the child's needs and the parent or guardians ability to provide for those needs.

A risk score is determined based on information obtained during the home visit. After researching scoring methods used by other agencies over the past thirty years, we developed our scoring system to measure the risk factors. Only one person scores all home visits. We test scores periodically by having the visits monitored and scored independently by outside social work professionals.

The parent/guardian is educated on the purpose of the foundation and the role the child's data will have in research. If a scholarship is awarded, the importance of regular attendance in childcare is stressed. If a scholarship is not awarded, the parent is made aware the child is included in the research, and their participation in the application process is appreciated.

After the home visit is complete, an applicant profile report is developed. It includes pertinent information about the child and parents, the home score, and a short narrative to explain extenuating circumstances that have placed the child at risk of not receiving a sufficient educational foundation before kindergarten. The narrative based on the information the parent or guardian shared, reflects the conversation between the administrator and the applicant family and basic research done to validate the information given by the family. What the profile does not include is identifying information about the family. Each applicant is assigned a number for identification purposes.

The next step in the application process is the vote by the board of directors. The board of directors receives each applicant profile by e-mail. Each board member studies the same information and makes an independent decision about the profile in question. They report their vote to the administrator for tabulation. A simple majority vote decides the future of the applicant in question. The administrator notifies each applicant with the results of the vote.

The last step in the process involves the parent of the scholarship recipient selecting a childcare setting for their child. The foundation contracts with privately owned and operated high quality 3-STAR childcare agencies in Obion County. The options are varied, some faith based, large, small, for-profit, and non-profit. The common denominator for all of the centers is their agreement with Promethean to teach our academic and character curriculum for optimum development. Promethean monitors the centers to insure high quality is maintained. If the parent decides to use the scholarship, all expenses are paid to the childcare center by the foundation until the child enters kindergarten unless the child leaves Obion County, leaves the childcare center early, or fails to maintain an average of 90% attendance.
Progress Evaluation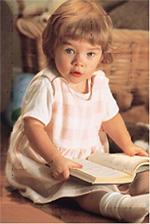 The first student entered the Promethean Foundation scholarship program in November 2004. In the past years, we have refined our methods for evaluating the progress of students, parents, and teachers.
The first evaluative tool used to measure the developmental progress of a child in the Promethean scholarship program is a Progress Note. Using this tool, completed by the classroom teacher, the children are evaluated in April and October. The Progress Note identifies developmental benchmarks observed in the classroom. If we identify a child having difficulty in the classroom, the teacher is encouraged with suggestions to meet the specific developmental needs of the child, or in some cases, the parents are encouraged to contact TEIS for further testing.
Pro-Kid Parents visit the Promethean office once a year to give a family status update. This information tells us if the family is making progress in areas of housing, transportation, employment, education, and income. The scholarship is not in jeopardy if there are improvements, but it is encouraging to see the families make noticeable progress in their personal situations.
When students enter public school for kindergarten, teachers are asked to use a Brigance Screening tool to evaluate kindergarten readiness. We receive the scores and record them for analysis, a valuable benchmark for comparison purposes upon entering the school system. We collected a Obion County and Union City average for the Brigance in 2008. At that time, the overall average for the county was 63.14. Currently, our scholarship children are scoring above the county average on their Brigance Screening. We also track Pro-Kids progress during their school years by collecting scores for standardized tests and teacher surveys at periodic intervals. The last benchmark collected will be high school graduation rates.
We also evaluate on a regular basis the quality of childcare centers. The state of TN uses the standardized I-TER and E-CER assessment tool to assess each center annually. In addition to the evaluations done by state agencies, the Promethean staff is conducting regular observations in every classroom in the centers. These observations are scored using a measurement developed by Promethean to determine the quality of interactions in the classroom.
How have we met the challenge in Obion County?
Through the data collected, we hope to answer many questions:
At what age is it most beneficial to start "at risk" children in childcare centers?

Birth to 15 months?
Sixteen months to thirty months?
Thirty-one months to forty-five months?
Forty-six months to sixty months?

By concentrating our resources on the children, do parents take advantage of this opportunity by improving their situation; jobs, income, education, housing, health, or transportation?
Will "at risk" students who participate in the program be better prepared socially and emotionally when they arrive at kindergarten compared to "at risk" students who have not participated in the program?
Will "at risk" students who participate in the program have a more positive outcome after high school compared to "at risk" students not in the program?
Will early enrichment of the environment make a difference?
Current Policies
Attendance Policy
Children maintain a 90% attendance rate. We ask them to attend childcare centers 5 days a week, 8 hours per day, 12 months of the year, when the center is open. The family receives 5 days a year the child can be absent with an unexcused absence. An excused absence is similar to school system policies and must be followed up with a note from the family explaining the reason for the absence. Our attendance rate averages 90-92%.
Maintaining Contact
Because it is important to keep tracking the same children all the way through their preschool years, families do not have to worry about losing scholarship (they only have to qualify one time). We ask them to make an annual update visit to the Promethean office to update contact information and complete a brief survey. At the visit, we also share information about their child's progress and we ask for a progress report on the family situation.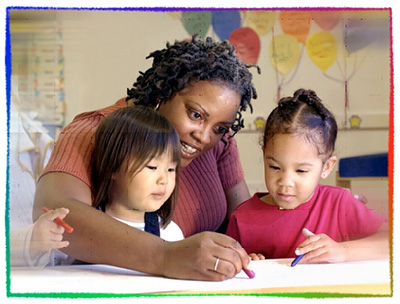 Our Philosophy
Promethean, or Pro-Kids, is a non-profit foundation created in 2004 as a result of the vision and generosity of the Robert E. and Jenny D. Kirkland Foundation. It is governed by a board chosen by the Union City Rotary Club.

We believe all children in Obion County should have an opportunity to reach their learning potentials from birth. However, not every child is born into an environment that provides this opportunity. Many of the children come from home environments where drugs, unemployment, unlawful conduct, laziness, or inadequate education are a way of life. Our goal is to level the playing field!

For children considered "at risk" because of the adverse events in their environments, we are providing scholarships for ages 6 weeks to kindergarten. They are enrolled in high quality center based childcare 8-10 hours a day, 5 days a week, and 12 months out of the year. The "at-risk" child's home environment may be a television set in a small over crowded apartment. By placing children in childcare centers with enriched environments, we have an opportunity to have a positive impact on the most important years in a child's life, Birth to Five. Research supports that the most critical time for optimum brain development is the first five years of life and the environment influences about 50% of the brain development during that time.

How much influence can a childcare center's environment have on a child? The typical child spends his week in the following way:

There are:
| | |
| --- | --- |
| 168 | hours/week in a child's life |
| 84 | hours/week sleep/naps (more for babies, less for preschoolers) |
| 42 | hours/week in childcare centers |
| 42 | hours/week with family or other |
As you can see, a childcare center has the potential to influence as much as 50% of a child's learning time. It is imperative that "at risk" children find high quality care to insure they have an enriched environment.
Pro-Kids partners with childcare centers in Obion County; each center is on track to improve quality in all aspects of care. They use the Tennessee STARS rating system and a challenging Pro-Kids curriculum for excellence in academics with a focus on character development.
Many of our parents have used state funded assistance in the past. They could not keep a full time job or were unable to stay on track in a GED program. As a result, they lost their state funding for childcare. We saw the same children lose childcare funding several times as the parent was in and out of state assistance. We believe this roller coaster effect is detrimental to a child because it encourages instability in the child's environment at the critical time for a child's brain development.
At Pro-Kids, we require the Obion County parent to take their child to childcare every day. Our attendance rate averages 90%, only hampered by transportation issues (transportation in rural areas is an issue for a family with no car and no phone). Our goal is not to manipulate the parents, but rather to address the child's needs. However, some parents are completing educational goals, seeking and maintaining jobs, and overall bettering themselves.
We believe there is a great chance of impacting change with the children. Why? The answer is in understanding brain development. The most critical time for brain development occurs between birth and five years of age, with the critical character foundation developing in the earliest years. It is a Pro-Kid belief that character should be taught and modeled from birth. If we wait until a child is 4 (Pre-K time), we may miss the opportunity to make a difference in a child's life.
A child's success in high school is dependent on success in the early grades and success in the early grades is dependent on arriving at Kindergarten ready to learn. It is a progression of events that can only improve by changing what happens in the beginning of a child's learning experience.
How are we approaching the education part? We believe in a rigorous curriculum. Our curriculum is based on Tennessee State Standards with the inclusion of character, technology, and foreign language, but the main emphasis is on character. We take a very direct approach to teaching children about character. In the centers our children attend, the teachers attend training on how to teach character.
We have seen a great pulling together of residents in Obion County to improve the outcome for children labeled as "at risk". The Promethean Advisory Board represents over 100 community volunteers from all walks of life willing to go the extra mile to see children get a good start in life. As part of this, representatives from many community programs work with us to help Pro-Kids accomplish its goal. The teaching is done through childcare centers licensed by the Department of Human Services. When needed, children are screened by the Tennessee Early Intervention Service to identify developmental delays as early as possible and address them.
On our initial visit with the parent, we enroll every child in the Imagination Library Reading Railroad, part of the governor's Books From Birth Foundation, which mails books to the home of preschool children. And, we collaborate with Union City School System and Obion County School System to track scholarship student's grades on standardized tests after they enter public school. This information will be used to evaluate the progress of our students on the academic criteria. Surveys completed by teachers will be used to evaluate character as the child matures.
The youngest Tennessee citizens deserve the very best education we can offer and the best time to begin is when a child is born. A successful citizen was once a successful high school student and a successful high school student was successful in the earlier grades and success in the earlier grades is dependent on arriving at Kindergarten ready to learn and arriving at Kindergarten ready to learn is dependent on an enriched educational environment from birth. Every child should have that opportunity.
Board of Directors:
Clay Woods, Chairman
Gary Houston, Vice-chairman
Marty Sisco, Secretary
Chuck Doss, Treasurer
Jenny Kirkland, Member
Dan Boykin, Member
Roger Williams, Member
For additional information contact:

Promethean Foundation
Cathy Waggoner, Administrator
206 East Reelfoot Avenue, Suite 23
Union City, Tennessee 38261
731-884-0088 (office)
888-884-0237 (toll-free)
E-mail:
www.4prokids.org